Summer Camp Guide Highlighted Listing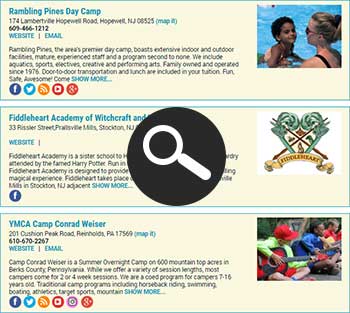 Our Summer Camp Guide is one of the most popular local resources for parents searching for the best summer camp for their kids. Even for folks that don't typically use our websites (there may be few of you out there), our camp guide has a first page Google ranking in our service area! We are really hard to miss. To remind parents about the Camp Guide, we link to it throughout our whole website and push traffic to it from social media.
Our Summer Camp Guide allows our visitors to select a geographic region (Lower Bucks, Central Bucks, Upper Bucks, Lehigh Valley, Montgomery County, Hunterdon County Area) or Sleepaway Camp category as the first step to finding the perfect camp for their children. Highlighted camps will show up in their appropriate regions (dictated by school districts). So, if our visitors are looking for camps in Montgomery County, only the Montgomery County camps (highlighted at the top and free listings at the bottom) will be displayed.
With a low price of $195.00/year, your Summer Camp advertisement will include:
Special highlighted listing;
Contact information;
A short camp description;
One photo;
Link to your website and email; and
Links to social media.
If you would like even more exposure for your camp, you may want to consider upgrading to a Dynamic Ad as described below.
Dynamic Ad Program
Free Camp Ad when you sign up for a full year ($750)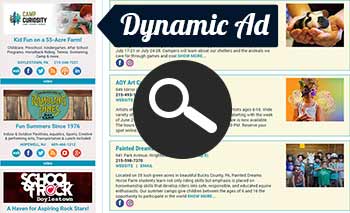 Boost your exposure exponentially with our Dynamic Ad Program! This includes an ad box that rotates through all interior pages. Learn more.

Any questions, call Mary Ann at 215-340-7692 or email for more information and to determine availability.